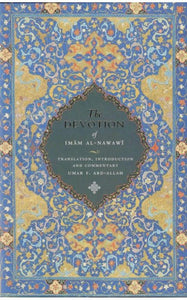 This Hizb/Wird is considered one of the great Devotions that is famous among the Muslims. It is attributed to the modern Imam Hafiz al-Faqih Muhyi al-Din Abu Zakaria Yahya bin Sharaf al-Din al-Shafi'i may Allah be pleased with him and make us benefit by his blessing, who died in 676 AH. It is a collection of du'aa, supplications, and recitations that were read by Imam al-Nawawi (may Allaah have mercy on him) every day with the phrase of his followers that he persevered.
This book is a translation of a work written in the thirteenth century by Imam al-Nawawi. In his presentation, Dr. Abd-Allah will provide an overview of the life of this saint and scholar in addition to discussing the significance of the new publication. He will define for us what tradition is, as well as the centrality of the text in establishing a living tradition. The discussion will also explore the role of such books in paving a way to gain an equilibrium within our souls; the role of spirituality in today's world, and why some Muslims spirituality with suspicion.
Written by one of the most celebrated scholars in Islamic History, The Devotion of Imam al-Nawawi is a beautiful remembrance and a gift from God to the community of His Beloved, may Allah bless him and grant him peace. It is highly respected and widely accepted by all spiritual paths. Among its many benefits is the subtle way it helps to purify intentions, facilitate aspirations, and give access to spiritual perfection. It asks for the protection of one's family, children, possessions, and friends against all harm. 
''By God's will, those who recite the devotion will be within
God's special protection and providential care''
This translation is accompanied by an introduction and commentary that seeks to provide the seeker of God with a deeper understanding of this devotion and of remembrance (dhikr) in general.