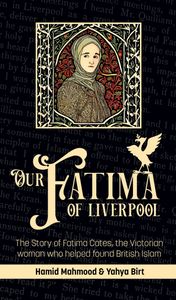 Fatima Elizabeth Cates (1865-1900) was a founding figure and leader of Britain's first mosque community, as well as its first treasurer. One of the earliest women to convert to Islam in England (in 1887), Fatima showed great courage and fortitude in overcoming great opposition from society and her own family to call people to the faith by word and by example. Read more about her and the lives of the other early Muslima converts she influenced in this first-ever biography dedicated to our Fatima of Liverpool.
About The Authors
​Hamid Mahmood is the founder of Fatima Elizabeth Phrontistery in London, an Islamic supplementary school, and a teacher by profession with an interest in the history of Islam and the West.
Yahya Birt is a community historian who has taught at the University of Leeds. He has an M.Phil. in Social and Cultural Anthropology from the University of Oxford.