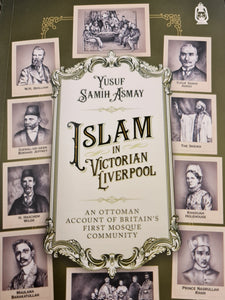 ISLAM IN VICTORIAN LIVERPOOL is a unique eyewitness account dating from 1895 of Britain's first mosque community by an Ottoman intellectual.
It not only brings to life the figure of Abdullah Quilliam (1856–1932), the founder and president of the Liverpool Muslim Institute, but the converts who make up its community and their daily lives and religious practices.
The author sets out to find the truth about Liverpool's Muslims — who had become famous all over the Muslim world. The book caused great controversy among Liverpool's Muslims and was later banned by the Ottomans.
The history of Abdullah Quilliam's activities as the leader of Liverpool Muslim Institute from 1887 to World War One provides a rich laboratory to understand the formative period of modern Islamic thought and the long-lasting geopolitical legacies of the Ottoman and British imperial relationship in shaping contemporary Muslim political identities. Scholars have been fascinated by the extraordinary success of Liverpool's convert Muslim community and Quilliam's personal charisma in establishing transnational intellectual links with Muslims across the world, the support they received from Ottoman Sultan Abdulhamid, and the unprecedented impact they had on contesting the racialization of Islam in the metropole of the British Empire. By translating and publishing an Ottoman-Egyptian intellectual's critique of this community, Birt, Macnamara and Maksudoğlu shed new light and insight on the global politics of pan-Islamic thought in the high age of imperialism. With great attention to details of personalities, events and conflicts within and around the small Liverpool Muslim Institute, this book provides an excellent example of microhistory that informs, challenges and revises our big narratives of caliphate diplomacy, pan-Islamic solidarity and imperial politics. This annotated translation of Yusuf Samih Asmay's critical account of "Islam in Victorian Liverpool" is presented with an authoritative scholarly introduction, and should be a required primary text on both graduate and undergraduate courses on imperial Muslim thought and politics.
Cemil Aydin, Professor of Global History, University of North Carolina at Chapel Hill, and author of The Idea of the Muslim World (Harvard University Press, 2017)
A fascinating historical journey through a hitherto unknown account by an Ottoman eyewitness of the early devolvement of a modern British Islam in the late nineteenth century. It triggers the reader's historical imagination by taking us back in history to look deeply at the Liverpool Muslim Institute through the eyes of Yusuf Samih Asmay in 1890s. It is certainly an enriching historical gateway for specialists and public readers alike.
Umar Ryad, Professor of Arabic and Islamic Studies, Faculty of Art, University of Leuven
Through the detailed observations of Ottoman journalist Yusuf Asmay, not only can another layer be added to the multifarious life of Abdullah Quilliam but we discover the intricate political workings within the Ottoman government regarding the activities of the Liverpool Muslim community. This book is a welcome addition for enthusiasts of Late Ottoman studies, Muslims in Victorian Britain and the life of Abdullah Quilliam.
Dr Yakoob Ahmed, Senior Lecturer in Islamic and Ottoman History, Department of Theology, Istanbul University
The rediscovery and translation of Islam in Victorian Liverpool by the Turkish journalist Yusuf Samih Asmay will surely shock the complacent out of too cosy a view of the early beginnings of Islam in Britain as he portrays a community struggling with issues of leadership, structure, financial concerns and the appropriate practices required for a fledgling convert membership in Victorian Liverpool. This is a book that will surely divide opinions.
Ron Geaves, Honorary Visiting Professor in the School of History, Archaeology, and Religion, University of Cardiff, and author of Islam in Victorian Britain: The Life and Times of Abdullah Quilliam
Translated and annotated with an introduction by Yahya Birt, Riordan Macnamara and Münire Zeyneb Maksudoğlu.