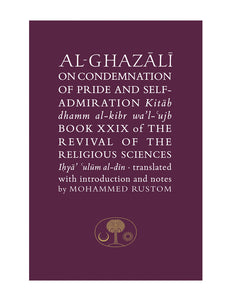 The Condemnation of Pride and Self-Admiration is the twenty-ninth chapter of The Revival of the Religious Sciences, a monumental work of classical Islam written by the theologian-mystic Abu Hamid Muhammad al-Ghazali. Perhaps the most important chapter in the whole of Revival, The Condemnation of Pride and Self-Admiration delves into the fundamental spiritual ailments and major impediments of the soul, namely pride and self-admiration. In Part One, Ghazali focuses on pride, firstly by showing how the Qur'an condemns it, then by demonstrating what pride is and what its symptoms are, how pride manifests outwardly, as well as the seven causes of pride, the root cause being self-admiration. In seeking ways to cure the soul of pride, Ghazali presents the virtue of humility as the spiritual virtue par excellence; he offers examples of true humility, of false humility, and the manner by which the seven causes of pride can be uprooted. In Part Two, Ghazali hones in on the root cause of pride: self-admiration. As with pride, Ghazali defines self-admiration, shows the various ways it manifests inwardly, how it causes negligence, delusion and complacency, how each of these can be remedied.
Just as humility is recognised as the virtue par excellence, pride is recognised as the vice par excellence; and this by all religions. The Condemnation of Pride and Self-Admiration is therefore a genuine contribution to the field of virtue ethics and will be of interest to all those engaged in the religious and spiritual life.
Abu Hamid al-Ghazali (d. 505/1111), theologian, logician, jurist and mystic, was born and died in Tus in Central Asia, but spent much of his life lecturing at Baghdad or leading the life of a wandering dervish. His most celebrated work, Revival of the Religious Sciences, has exercised a profound influence on Muslim intellectual history by exploring the mystical significance of the practices and beliefs of Islamic orthodoxy, earning him the title of Hujjat al Islam, the 'Proof of Islam'.