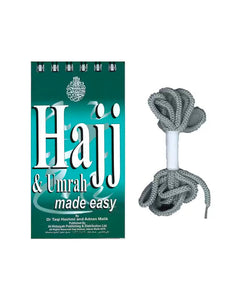 A practical and complete guide to Hajj & Umrah presented in a unique, innovative pilgrim-orientated design. Flip format, handheld and with a unique travel cord allowing you to carry it hands free. An ideal companion on your blessed journey! Covers complete rites of Hajj and Umrah in a clear manner with aid of dozens of diagrams. Printed in full colour with laminated splash-proof pages. 

NEW Arabic transliteration of duas.
World's 1st Adjustable Travel Cord.
Travel information and Duas.
Updated Arabic- English phrases
Hajj Ministry procedures explained.
Compatible with the 4 Madhabs.
According to the Qur'an and Sunnah.
Approved by Dr Suhaib Hasan.