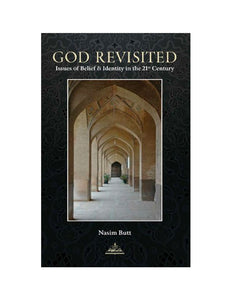 Is there a God? How can we know the answer? If God exists, what can we know about God? These questions are central to the philosophy of religion, but are of concern to all thinking people. In God Revisited, Nasim Butt tackles the issues, looking at the classical arguments for the existence of God and examining the contemporary challenges to them from sociologists and psychologists as well as philosophers.
The author also examines the nature and the meaning of individuals' religious experiences, and the relation between personal faith and religious pluralism. As a Muslim, Dr Butt evaluates alternative viewpoints on the above issues in terms both of their general validity and (mindful of the need for Muslims to gain a stronger appreciation of the logical basis of religious faith) with reference to an Islamic world-view. All philosophical writing reflects the author's own commitments. Hence completely neutrality is not possible; but that does not preclude a genuine striving for critical honesty. The breadth of viewpoint combined with intellectual insight makes God Revisited a valuable source for readers of all faiths.
Born in 1961 in Pakistan, Dr Nasim Butt was raised in England. He holds a B.Sc., M.Sc and Ph.D. in the history of science from the university of London, as well as an M.B.A in educational management and the National Professional Qualification for Leadership. Formerly Principal of Brondesbury Boys' College in Northwest London, Dr Butt is a qualified Ofsted inspector who assesses both state and public schools. His specialized interests include the philosophy of science and of religion.
Nasim Butt |  pg PB