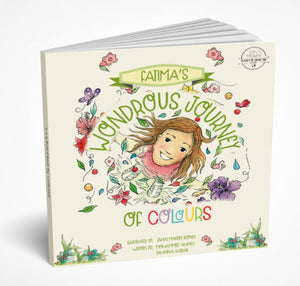 Join Fatima on a wondrous journey of colours in this imaginative children's picture book. Living on Earth House Farm in Kashimpur, young Fatima is filled with curiosity and wonder about the world around her. When she comes across a beautiful aubergine on her farm, she can't help but wonder where the vibrant purple colour comes from.

Through her exploration, Fatima learns about the connection between colours and the amazing world we live in. With the help of her wise grandparents, Fatima discovers the powerful ways that colours enrich our experiences and memories.

With stunning illustrations to accompany this story of discovery, Fatima's Wondrous Journey of Colours is a must-read for any child who loves to explore and learn about the world around them.