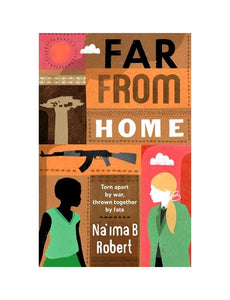 Will I ever see my home again? I do not know.
Will I ever see my father again? I do not know.
Will life ever be the same again? I do not know.
14-year-old Tariro is a daughter of the soil: she loves the land, the baobab tree she was born beneath, her loving family – and brave, handsome Nhamo. She couldn't be happier. But then the white settlers arrive, and everything changes – suddenly, violently, and tragically, robbing Tariro of all that she loves.
Forty years later, 14-year-old Katie adores her doting father, her exclusive boarding school, and her farm with its baobab tree in rural Zimbabwe. Life is great. Until the land acquisition programme forces the family off the land and to cold, rainy London.
Katie and Tariro are two girls linked by a terrible secret, grappling with the complexities of adolescence, family and a painful colonial legacy as their lives play out against the tragic history of the land in Zimbabwe.
Atmospheric, gripping and epic in scope, Far from Home brings the turbulent history of Zimbabwe to vivid, tangible life, challenging the reader to see it with new eyes.
About The Author
Na'ima B Robert is 'Muslim, Black, mixed-race, Southern African, Western and woman all in one'. Descended from Scottish Highlanders on her father's side and the Zulu people on her mother's side, she was born in Leeds and grew up in Zimbabwe.
She went on to gain a first-class degree from the University of London. Having worked in marketing, the performing arts, teaching and the travel and tourism industry, she now has a wonderful time being a mum, writing children's books and running SISTERS, a magazine for fabulous Muslim women.
She divides her time between South London and Egypt and is a wannabe Somali in her spare time, still struggling to learn to read it!