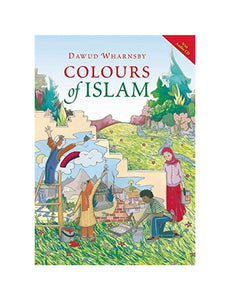 "Colours of Islam" is a beautiful collection of spiritual songs by Canadian artist and educator Dawud Wharnsby Ali, the composer of "A Whisper of Peace".
In this, his second recording, listeners will find a mix of songs that celebrate Allah's signs to mankind, the diversity of the believers around the world, and more. Some examples are:
"Sing, Children of the World", which shares Islam's international appeal with listeners. It opens with the words "There is no god but Allah, and Muhammad is His messenger" spoken in Thai, French, Bosnian, Somalian, Arabic, and English. It reminds us that all children of the world are pure of faith and should be remembered in our prayers. After just one listen, Wharnsby-Ali and his group of singing children will have you and your kids singing along too!
"We've Scanned The Sky", one of the first ever recorded songs in English about Ramadan, will take you through the blessed month of fasting, from the sighting of the new moon until the welcoming of Eid day! This "Ramadan Song", as it is often called by school children around the world, also reminds children to remember the poor any needy, especially during the blessed month of fasting. Play this song to bring the Ramadan spirit to your home!
A wonderful gift and addition to your audio collection, "Colours of Islam" is not simply fun and educational for children, who will learn about God, Ramadan, and more, but also for adults, who may catch themselves singing along to these catchy Halal tunes!
Special Features Of The Album
-Recitation of Qur'an by children
-topics of songs include: thanking Allah, Ramadan, Prophet Ibrahim
-only percussion instruments used in addition to human voice.
The songs included are:
Sing, Children Of The World
The Story Of Ibrahim (Alaihis Salam.)
Alhamdulillah
Wings Against My Window
We've Scanned The Sky
Little Bird
Allah Ta'ala
Colours Of Islam
Hear me beat my drum (BONUS SONG)

By Daud Wharnsby Ali
Illustrated By Shireen Adams
Hardback 35 Pages
ISBN : 9780860375913
Age:  5+
The Islamic Foundation UK