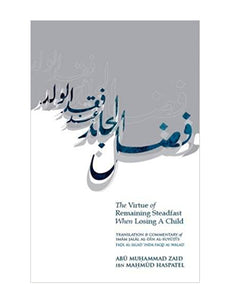 Few trials are as intense as the pain of losing a child: we are left bewildered, sometimes angry, and our most fundamental beliefs may be challenged. The Virtue of Remaining Steadfast When Losing a Child is a compendium of consolations found in the earliest texts of Islam, the great majority of them attributed to the Messenger of Allah himself.
The devoted reader will learn how this uniquely painful suffering can be the occasion of reward by the Most Merciful, and a means of drawing nearer to Him and His Blessed Prophet. It is also hoped the book will serve as a useful reference work for; Imams, Hospital Workers and others with professional responsibilities.
The translator has included an in-depth research of Imam al-Suyuti's biography in the book.
Mufti Zaid Haspatel, a senior lecturer from Dar al-Uloom Zakariyya (South Africa) translated the book using four manuscripts. It is a translation of Imam Suyutis book with additional notes, index and an introduction.
This is the first book on the topic in the English language. Al-Suyuti was orphaned at an early age, and during the course of his life also lost a son, a daughter and his wife, which may have prompted him to write this book. The translator has also tasted the pain of which it speaks.