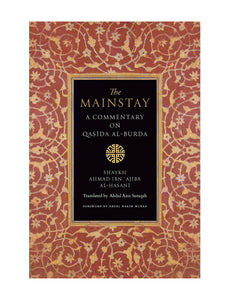 THE FIRST-EVER COMPLETE COMMENTARY ON ISLAM'S MOST FAMOUS POEM
Ever since its composition in the seventh Islamic century, by the poet, scholar and spiritual master Muhammad b. Saʿīd al-Buṣ
īrī
,
al-Kawākib al-durriyya fī madḥ Khayr al-Bariyya
('The Celestial Lights in Praise of the Best of Creation'), more commonly known as the
Burda,
has been a mainstay of the Muslim choral tradition from East to West. It is the quintessence of devotional praise and expression of passionate love for the Prophet (Allah bless him and give peace), for both the expert and layman. It adorns architecture throughout the Muslim lands and also found a place on the walls of the Prophet's Mosque in Medina.
Dozens of commentaries and glosses on the poem have been written, by such luminaries as Ibn Ḥajar al-Haytamī, ʿAlī al-Qārī, al-Bājūrī and Shaykh-Zādah. This indicates its widespread acceptance within the mainstream Muslim scholarly tradition and unquestionably dispels the doubts that some have raised about the poem's content. While a plethora of material exists in Arabic, Urdu and Persian, no complete commentary on theBurda has hitherto been written in or translated into English.
Inspired by this rich heritage of his predecessors, Shaykh Ibn ʿAjība d.1224 AH [1809 CE] in al-ʿUmda fī Sharḥ al-Burda ('The Mainstay: a Commentary on Qaṣīda al-Burda') beautifully elaborates on the poem taking the reader to the heart of the author. He comprehensively explains the meanings of each couplet and gleans beneficial spiritual lessons from it. For every reference in the Burda to events in the Prophet's life, the author cites the primary texts that mention them and offers valuable details and enlightening clarifications of areas of possible confusion. It further offers the reader beautiful imagery and aesthetic refinement that perfectly complement al-Buṣīrī's ode.
'Many glosses to the Burda have achieved a just renown, but it is pleasing and appropriate that the first to appear in translation should be Ibn ʿAjība's al-ʿUmda fīSharḥ al-Burda.'
(SHAYKH ABDAL HAKIM MURAD, University of Cambridge, UK)
'The Burda of Imam al-Buṣīrī, a moving poem singing the praises of the Prophet Muhammad (Allah bless him and give him peace), is one of the great cultural marvels of Islamic civilization. Its beautiful meanings once permeated countless cities, towns, villages and hamlets all over the Muslim world. Now its sweet fragrance is barely sensed. Perhaps Abdul Aziz Suraqah's fluid translation of the great Moroccan sage IbnʿAjība's commentary on this timeless work will help to restore it to its place of prominence in our lives and societies at a time when our need for the true Muhammadan presence has never been greater.'
(IMAM ZAID SHAKIR, Zaytuna College, USA)
'The Burda is an unmatched expression of love and praise of Allah's Beloved (Allah bless him and give him peace). Its meanings and beauty are unpacked by Sidi IbnʿAjība in an unmatched style in this commentary.'
(SHAYKH FARAZ RABBANI, SeekersHub Global)