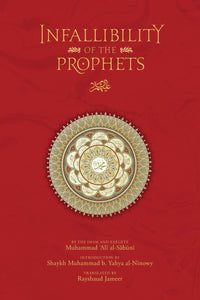 In the Muslim community, the Prophets and Messengers are held in the highest regard as the pinnacle of God's creation—the best of the best and sinless. Unfortunately, within the Muslim community there are misunderstandings regarding the Prophets. Whether it be the famous movie about Islam entitled The Message or the self-titled television series which aired in 2012 about the life of ʿUmar b. al-Khattāb, many Muslims are not quite sure about how to approach the religiously-sensitive issue of depicting religious figures, particularly the Prophets.
Written by Imam Muhammad Ali Al-Sabuni, a leading scholar of Sunni orthodox Islam and author of Safwat al-Tafasir, one of the most widely accepted tafsirs of the Qur'an in the modern era.
The book also includes an introduction from renowned academic and spiritual guide, Shaykh Muhammad b. Yahya al-Ninowy. Both scholars provide consistent references to Qur'anic verses and precise exegeses to demonstrate the validity of their argument.