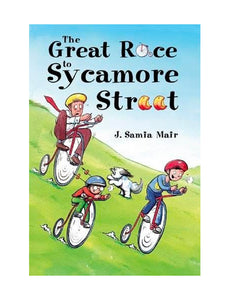 This topsy turvy adventure on Sycamore Street sees brother and sister Huda and Amani arrive in Fairfax County, Maryland with one thought: it was going to be a long, boring summer in the country.
They couldn't be more wrong.
With Grandma Hana's new neighbor planning to pull down her prized peach tree and a gang, led by the archer Bobby, marshaling the local lake, Hude and Amani have a hard time getting any peace.
In this warm and comical story, find out how, under the watchful eyes of Grandma Hana, Hude and Amani plan to save the peach tree and beat Bobby at his own game before leaving Sycamore Street behind.
About The Author
J. Samia Mair has published two children's books with The Islamic Foundation, Amira's Totally Chocolate World and The Perfect Gift which have been favourably received. She is currently a staff writer for SISTERS Magazine.
Additionally, she has published articles, stories, and poems in books, magazines, anthologies, scientific journals, online news sources, and elsewhere. This is her first chapter book for kids. She lives in Odenton, Maryland.

Authored By J. Samia Mair
Paperback 190 Pages
ISBN: 9781847740571
Publisher: Kube Publishing, U.K. (2013)