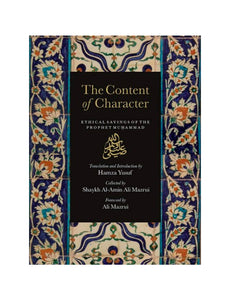 The Content of Character - Ethical Sayings of the Prophet Muhammad (Peace be Upon Him)
Translation and Introduction by: Hamza Yusuf
Collected by: Shaykh Al-Amin Ali Mazrui
Foreword by: Ali Mazrui
As a scholar, Shaykh Al-Amin Mazrui attempted to be a bridge between Islam and modernity. He argued that while Christianity became the vanguard of progress when it became more secular and less Christian, Islam was the vanguard of progress when it was more Islamic and less secular. According to Shaykh Al-Amin, progress among Muslims required not the abandonment of Islam but the recovery of the original spirit of Islamic enlightenment. Shaykh Al-Amin's choice of these favored sayings of the Prophet (pbuh) in The Content of Character--translated and introduced here by the well-known American scholar Hamza Yusuf--was influenced by his effort to be a bridge--builder, especially between the values of tradition and the norms of modernity, between the wisdom of religion and the compassion of humanity.