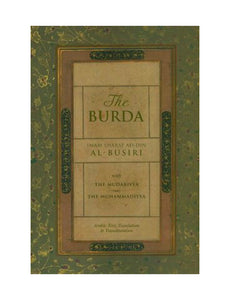 A new translation of the Burda Sharif, the Mudarriya and Muhamadiya in the same book.
Translated by Aziza Spiker.
Published by Guidance Media
Imam al-Busiri's poems in praise of the Prophet Muhammad have been sung in gatherings throughout the Muslim world for hundreds of years, and have been translated into many languages.
The most famous of these poems, the Burda, or 'The Poem of the Cloak', is included here in an English translation, together with the Mudariyya and the Muhammadiyya.
The benefits of reciting these poems are well known. To facilitate their recitation and understanding, the translation is presented here with a transliteration and the original Arabic text.
For the first time, the Arabic text is given with a moving translation and also the transliteration for those who are unable to read the Arabic script fluently.