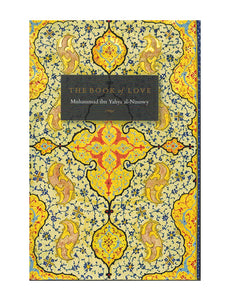 A summary of al-Ninowy's thoughts on a number of issues skillfully and strategically placed as aphorisms, or sayings and quotes.
It has no particular order, but still creates a coherent whole.
High in quality and paper, high in wisdom and advice, ideal gift to Muslims as well as Non-Muslims
The Book of Love is a book of wasatiyyah, the celebrated Qur'anic middle way. However, wasatiyyah, or moderation in all things, is not a capitulation, or a watering down, of the core values of belief.
Wasatiyyah is totally, uncompromisingly, absolutely, about love. Wasatiyyah is love, and love is wasatiyyah. It is truly, unselfishly, loving for others what you love for yourself. This is a key to the Nur ul-Muhammadiyyah, the Prophetic light – a light of love and knowledge that awaits every soul on this earth.
The Book of Love is an extraordinary book written for extraordinary times – an era where confusion is the King, ignorance the Queen and Mr Nafs the treasurer. The Book of Love shines a light that shrinks the contemporary darkness. It is a book for everybody, and a mercy to all.
About The Author
Shaykh Dr Muhammad al-Ninowy is a Syrian-American scholar of classical training and tradition based in Atlanta, Georgia, whose lineage is traced back to the Prophet Muhammad S.A.W. Al-Ninowy is considered a muhaddith. In addition to holding a PhD in hadith science, he also holds a bachelor's degree in microbiology from the University of Illinois, and a Doctor of Medicine degree.
He is the founding director of Madina Institute and Seminaries, the Center for Non-Violence and Peace Studies, and the charitable organization Planet Mercy, which have operational activities worldwide. Madina Institute and Seminary is a groundbreaking initiative offering traditional Islamic theological education in a modern setting, and is geared toward producing homegrown leaders, thinkers, and scholars.
He has been the forerunner in promoting non-violence among all people and religions worldwide. Al-Ninowy is also the spiritual guide of the Alawi-Husayni-Ninowi Zawiyah; a Shadhili Rifa'i Sufi order.