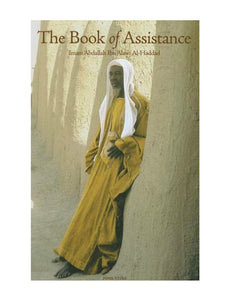 There are many books in English which present Sufi doctrine, but few which can be used as practical travel guides along the Path. Originally written in Classical Arabic, the aptly-named Book of Assistance is today in widespread use among Sufi teachers in Arabia, Indonesia and East Africa. Presented here in the readable translation of Dr. Badawi, this manual of devotions, prayers and practical ethics will be invaluable to all who love the Prophet and the Sufi way.
The author Imam Abdallah Ibn-Alawi Al-Haddad (d. 1720), lived at Tarim in the Hadramaut valley between Yemen and Oman, and is widely held to have been the 'renewer' of the twelfth Islamic century. A direct descendant of the Prophet, his sanctity and direct experience of God are clearly reflected in his writings, which include several books, a collection of Sufi letters, and a volume of mystical poetry. He spent most of his life in Kenya and Saudi Arabia where he taught Islamic jurisprudence and classical Sufism according to the order (tariqa) of the Ba'Alawi sayids.
A Short Biographical Sketch of Imam 'Abdallah Ibn 'Alawi al-Haddad
The Messenger of God, may blessings and peace be upon him and upon his family, prophesied that in every century God would raise up amongst his nation a man who would renew its religion. Imam 'Abdallah al-Haddad was the renewer, or Mujaddid, of the twelfth Islamic century. He was renowned, and deservedly so, for the breadth of his knowledge and his manifest sanctity. The profundity of his influence on Muslims is reflected by the fact his books are still in print throughout the Islamic world.
He was born in Tarim, in the hills of Hadramaut, one of the southerly regions of the Arabian peninsula, and grew up in an environment where the accent was upon piety, frugality, erudition, and an uncompromising thirst for gnosis (ma'rifa). His lineage is traced back to the Prophet, may blessings and peace be upon him, and his family, through Imam al-Husayn. His illustrious ancestors, the 'Alawi sadat, had for centuries produced generation after generation of great scholars, gnostics, and summoners to the Straight Path.
Imam al-Haddad's writings, if we except a few short treatises, and his volume of poetry, are mostly concerned with establishing within his readers the firmest possible foundations for faith and certainty. He recognised the signs of his times and of the times to come, and observed how people were drawing away from religion, exhibiting a reluctance to study and a diminishing inclination to seek spiritual growth. He therefore endeavoured to produce concise, clear, and uncontroversial texts. His concern for brevity is manifest throughout his books, many of which are abbreviated adaptations of Imam al-Ghazali's monumental Revival of the Religious Sciences (Ihya 'Ulum al-Din). Ghazali had himself been the renewer of the sixth century.
Imam al-Haddad died on the eve of the seventh of Dhu'l-Qa'da, 1132 A.H. having spent his life bringing people to their Lord through his oral and written teaching, and his exemplary life. He was buried in a simple grave in the cemetary at Tarim.
               -Dr. Mostafa al-Badawi