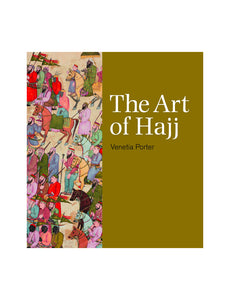 "The Hajj is the sacred and most coveted journey for a Muslim. With her little book—a companion to the exhibition, Hajj: Journey to the heart of Islam—Venetia Porter, curator of Islamic and modern Middle Eastern art at the British Museum, not only takes the reader on a journey, but celebrates the skill and creativity of artists, craftspeople, and the pilgrims themselves who have responded to the call of the Hajj over the centuries."—Islamic Horizons
"An absolute visual delight the book contains fifty six images of various artistic items related to the hajj. They include images of medieval era Arabic maps, sundials, Qibla indicators, compasses, etc...The book also documents modern forms of hajj including wall art in Egypt, post cards, and photography...Overall this little book is a delight to look at and propels the reader to make the journey even if he/she had done so many times before."—Muslim Observer
A visual treasury that explores the artistic wealth surrounding the Hajj pilgrimage, its rituals and sacred sites
It is laid down in the Qur'an that at least once in their lives Muslims should undertake the annual spiritual pilgrimage—the Hajj—to the holy city of Mecca. There, within a sanctuary, lies the Ka'ba—a cube of black granite that is the literal center of a Muslim's world and the compass point towards which daily prayers are made.
Here are richly embroidered textiles created as coverings for the Ka'ba; delicate watercolors from prayer books; a rare surviving example of medieval cartography; decorative tiles depiting the sanctuaries of Mecca and Medina; beautifully crafted compasses for finding the direction of Mecca; hand-colored illustrations from pilgrims' accounts and guides; moving photographs; powerful artworks by modern artists; simple scenes painted onto houses by returning travelers.
• Encompasses a striking array of objects and images, from the seventh to the 21st centuries
• Features illuminated manuscripts, wall paintings and photographs, calligraphy, textiles, scientific instruments, decorative tiles, maps, ceramics, metalwork and powerful works by contemporary artists.
This striking little book not only takes the reader on a journey, but celebrates the skill and creativity of artists, craftspeople, and the pilgrims themselves who have responded to the call of Hajj over the centuries.
Venetia Porter is Curator of Islamic and modern Middle Eastern art at the British Museum. She is the author of Islamic Tiles and the editor of Hajj: Journey to the Heart of Islam.