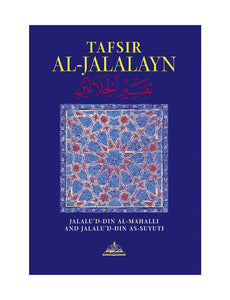 The publication of this book is a landmark in the history of Islamic literature in English. With this work, for the first time, a complete translation of one of the great classical commentaries on the Holy Quran becomes available to English-speaking readers.
Tafsir al-Jalalayn, meaning "The Commentary of the Two Jalals", is named after its two authors: Jalalu'd-Din al-Mahalli (1389-1459), who wrote half of it, and his student, Jalalu'd-Din as-Suyuti (1445-1505), one of the greatest Muslim scholars of all, who completed it after al-Mahalli's death.
For half a millennium Tafsir al-Jalalayn has been considered the essential first step in the study of the meanings of the Quran by teachers and students throughout the Islamic world. Although it is among the shortest and simplest of the complete commentaries, it is at the same time both wide-ranging and profound.
This translation gives non-Arabic speakers access to one of the seminal works of classical tafsir literature. It is hoped that it will prove a valuable aid to the correct understanding of the Quranic Revelation throughout the English-speaking world.
JALALU'D-DIN AL-MAHALLI (791-864/1389-1459) of Cairo was a versatile, scholar who excelled in jurisprudence, theology, grammar, rhetoric, and Quranic commentary. He was known for his scrupulousness, fear of Allah, and fearlessness in upholding the truth. Al-Mahalli was offered the highest judicial positions but refused them. He taught jurisprudence in the Mu'ayyadiyya and Barquqiyya madrasas. Abstinent and ascetic, he lived on what he earned by trade. His most famous work is his Quranic commentary, Tafsr al-Jalalayn, which he began halfway through the text with Surat al-Kahf, ending with an-Nas and al-Fatiha. Although he died before he could start the other half, the work was completed by his student, Jalalu'd-Din as-Suyuti. Al-Mahalli's other books include commentaries on Jam' al-Jawami', al-Burda, al-Manahij fi'l-fiqh, al-Waraqat fi'l-usul, and Kitab al-Jihad.
JALALU'D-DIN AS-SUYUTI (849-911/1445-1505), from Asyut in Egypt, was among the most renowned and prolific Muslim scholars of all time. He wrote more than 300 books, covering every aspect of the Islamic sciences. He memorized the Quran at the age of eight, and then went on to study with more than 150 scholars. He travelled extensively in his quest for knowledge – to Damascus, Hijaz, Yemen, India, Morocco, and the lands south of Morocco, as well as in Egypt. Al-Suyuti devoted his life to learning, teaching and writing. He was noble, abstinent and self-sufficient, distancing himself from people of rank and power and living on what he earned by teaching. Major writings of al-Suyuti that remain widely used today include al-Itqan, on the Quranic sciences; and Tafsir al-Jalalayn, which he completed when only 22.
JALALU'D-DIN AL-MAHALLI and JALALU'D-DIN AS-SUYUTI
Jalalu'D-Din Al Mahalli & Jalalu' D-Din As Suyuti  | 1378pg HB