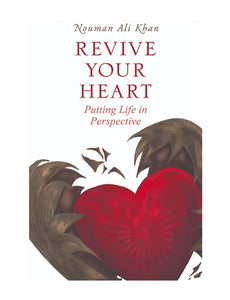 Revive Your Heart is a call for spiritual renewal and an invitation to have a conversation with one of the world's most recognisable voices on Islam, Nouman Ali Khan.
This collection of essays is disarmingly simple, yet it challenges us to change— to revise our actions, our assumptions, and our beliefs so we can be transformed from within, as well as externally. It aims to help modern Muslims maintain a spiritual connection with Allah and to address the challenges facing believers today: the disunity in the Muslim community, terrorists acting in the name of Islam, and the disconnection with Allah.
These challenges and more are tackled by Nouman Ali Khan, with his profound engagement with the Qur'an, in his trademark voice that is sought out by millions of Muslims on a daily basis.
Nouman Ali Khan is recognised as one of the world's most influential Muslims, not only in the West. His deep and profound bond with the Qur'an, the Muslim holy book, is at the heart of his work and the focus of his teachings, which manage to reach out to millions of Muslims, from many different countries. He has millions of followers on Facebook. Millions of viewers watch him on YouTube and thousands of students throughout the world are signed up to his courses. He is the CEO and founder of Bayyinah Institute, an Arabic studies, educational institution in the United States.