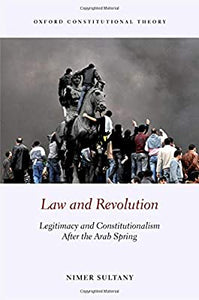 What is the effect of revolutions on legal systems? What role do constitutions play in legitimating regimes? How do constitutions and revolutions converge or clash? Taking the Arab Spring as its case study, this book explores the role of law and constitutions during societal upheavals, and critically evaluates the different trajectories they could follow in a revolutionary setting. The book urges a rethinking of major categories in political, legal, and constitutional theory in light of the Arab Spring.

The book is a novel and comprehensive examination of the constitutional order that preceded and followed the Arab Spring in Egypt, Tunisia, Libya, Morocco, Jordan, Algeria, Oman, and Bahrain. It also provides the first thorough discussion of the trials of former regime officials in Egypt and Tunisia. Drawing on a wide range of primary sources, including an in-depth analysis of recent court rulings in several Arab countries, the book illustrates the contradictory roles of law and constitutions. The book also contrasts the Arab Spring with other revolutionary situations and demonstrates how the Arab Spring provides a laboratory for examining scholarly ideas about revolutions, legitimacy, legality, continuity, popular sovereignty, and constituent power.
Review
It is hard to be too effusive in one's praise for this book. It is groundbreaking for several reasons: first, it removes constitutional politics in the Arab world from some exotic margin of constitutional studies and places it in the center of cutting-edge debates about the relationship of revolution to rule of law, the rule of law and legitimacy, and constituent power and constituted power, showing how the Arab experience both enriches constitutional theory and is enriched by it; second, its theoretical sophistication is unmatched by any other work in the field of Arab constitutional politics; and, third, it takes seriously the contributions of Arab constitutional lawyers themselves by incorporating their arguments and analysis into the structure of the book instead of treating them simply as derivative authors with nothing relevant to contribute to constitutional theory. ( Mohammad Fadel, Law & Society Review)

... a well-timed and excellent contribution to the subject areas of constitutional theory and Arab legal studies. It will serve as a springboard for further systematic and comparative research in the field for years to come. ( Sara S. Razai, The Legal Agenda)

Law and Revolution by Nimer Sultany will give your brain an excellent summer workout. ... Seeking to unchain thinking patterns from social-political change, this is a must read for lawyers and politicians. ( Kirsty Brimelow, QC, The Times)

Nimer Sultany's book tells us just what we don't want to hear. He does so by taking a philosophical hammer to a range of central concepts in constitutional thought and practice ... Sultany tells us that settled understandings of concepts such as constituent power, legitimacy, revolution, and legality lie somewhere between innocent myth and devious distortion ... In a masterful study, Sultany dissects the theory of each of these ideas before illustrating how they fail to map onto the complex events in multiple nations during the Arab Spring. As a specimen of critical constitutional theory the book is first rate. As a study pulling the legal curtain back on constitutionally significant events during the Arab Spring, it is riveting. And as an in-depth book combining both of these things, it is incontestably in the front rank of constitutional scholarship. ( Book Award Committee, International Society of Public Law)

This is a magisterial telling of the tale of legal political ideas in the tragedy of the countries of the Arab Spring. Sultany makes us see country by country that popular sovereignty, constitutionalism, constituent power, the rule of law, judicial independence, and many more, were abstractions that couldn't deliver what they promised in the way of guidance, normative judgment, or even clear meaning. For all its sadness, this is a brilliant account, full of lessons for a next time sure to come. ( Duncan Kennedy, Harvard Law School)

This study foregrounds Arab Spring experiences to reconsider theories on legitimacy, revolution, legality, and constitutionalism in an examination of the role of law and constitutions. It is a pleasure to read an account that offers so much empirically-grounded theoretical insight from experiences in Arab states by way of correction to, or development of, existing mainstream scholarship in these areas. ( Lynn Welchman, School of African and Oriental Studies, University of London)

Drawing on a wide range of political and constitutional thought, Nimer Sultany uses 'laws deeply ingrained incoherence' as a probe to destabilize familiar dichotomies-such as reform/revolution and continuity/disruption-in theorizing about constitutions, revolutions, and legitimacy. His case studies of Egypt, Tunisia, and other nations caught up in the Arab Spring confirm his perspective's contribution to constitutional theory. ( Mark Tushnet, Harvard Law School)
Book Description
Winner of the 2018 ICON-S Book Prize and the 2018 Society of Legal Scholars Peter Birks Prize for Outstanding Legal Scholarship
About the Author
Nimer Sultany is Senior Lecturer in Public Law at the School of Oriental and African Studies, University of London. He holds an SJD from Harvard Law School; an LL.M. from University of Virginia; an LL.M. from Tel Aviv University; and an LL.B. from the College of Management. He was a recipient of the British Academy Mid-Career Fellowship and the Baldy Fellowship in Interdisciplinary Legal Studies at SUNY Buffalo Law School.