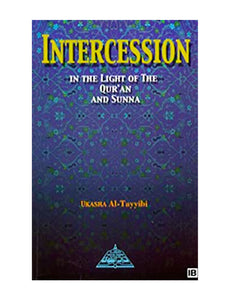 Praise to be Allah who's help we seek and whose forgiveness we ask. On the Day of Judgement Prophet Muhammed (SAW) will be the only prophet who will be granted permission to intercede to save mankind from the terrors of awaiting judgement on the Day of Rising.
We must not fail to understand that matters which are great and insignificant, large or small are preordained and confirmed in the knowledge of Allah. Surely Allah Almighty has decreed and determined the states of the intercessor, and for whom he intercedes.
The author has taken an analytical approach to prove that intercession can only be granted by Allah's permission, and the Prophet Muhammed (SAW) will intercede for mankind at five various levels, i.e.. from the crossing of the sirat to the height of peoples rank within the garden of paradise.
Discussed topics include intercession only being granted by Allah's permission, those who took Isa and Uzayr and the angels as lords and sought their intercession, the last day and intercession, the unbelievers seeking intercession, the intercessions of the Prophet (pbuh), his five intercessions, and various hadiths concerning intercession.
Uksaba Abdul Mannan at Tayyibi | 66 pg PB