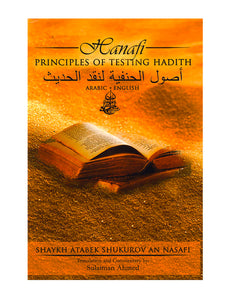 In Islam there are many sources of religion, three of them are agreed upon by all groups of Sunni Muslims. In order of priority they are Quran (القران), Hadith (الحديث) andIjma'a (الإجماع). This book will deal with the thousands of hadith that form part of the Islamic tradition.
Hanafi Principles of Testing Hadith is a manual which explains the methodology of the traditional Islamic Hanafi School towards hadith. There are thousands of hadith; the concern of both the scholar and the layman is what their approach should be to these narrations. We know some hadith are accepted into theology or belief, and thus they need to fulfil the highest criteria of validity. Other hadith are accepted into law and everyday practice, but for these the burden of proof required is less than in issues of theology – yet they still require strong evidence in favour of their authenticity, especially when they can result in rulings about legal punishments (and especially capital punishment). Yet others are examples of how to follow the Prophetic tradition or words of wisdom, and consequently the degree of verifiability required for these is much lower. We also have some hadith which are completely rejected based on a variety of principles; which are discussed in detail in the manual. Therefore, succinct principles to be used in the application of hadith are of the utmost importance. These principles were established by great Scholars from the early period of the development of Islamic theology and jurisprudence such as Imam Abu Hanifa (d. 767/148 AH), Imam Malik (d. 795/179 AH) and Imam Shafi'i (d. 820/204 AH).
Despite the modern day epistemic confusion when it comes to hadith, these principles were in fact strictly followed by Imam Abu Hanifa and the early Hanafis.
Authors
The original Arabic text was authored by
Shaykh Atabek Shukurov An-Nasafi
and the English translation and Commentary was authored by
Shaykh Sulaiman Ahmed Al-Hanafi
. This is the first combined effort of the authors on a truly monumental historical Islamic book