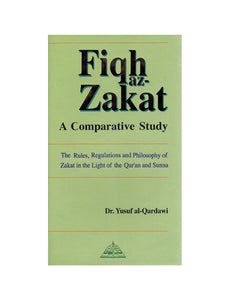 Among the most important books Dr. Yusuf al-Qardawi has written is the present volume on fiqh az-Zakat. It is a study which deals in depth with legal rulings and philosophy of zakat in the light of the Qur'an and Sunnah.
Among the five pillars of Islam, Zakat is the third after Tawhid and prayer. It is crucial to the financial and political structure of every Muslim community. Yet, despite its pivotal significance, it is the least understood of the basic practices of Islam and indeed now plays little or no part in the lives of the vast majority of Muslims. That fact makes this book a very important addition to the literature available to English-speaking Muslims.
It covers every aspect of zakat in great detail, studying those who are obliged to pay zakat, the amounts they have to pay, as well as the types of wealth on which zakat must be paid. It also deals with how zakat is collected, its connection to Muslim governance and its relation to society as a whole. Fiqh az-Zakat is a seminal work for all Muslims and an important reference book for everyone interested in Islam.
Yusuf Al Qaradawi |  751 pg HB