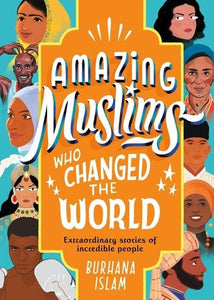 Do you think you know who first thought of the theory of evolution?
Have you ever wondered who created the oldest university in the world?
Is Joan of Arc is the only rebel girl who led an army that you've heard of?
If so, then you need this stunningly illustrated treasure trove of iconic and hidden amazing Muslim heroes!
You'll find people you might know, like Malala Yousafzai, Sir Mo Farah and Muhammad Ali, as well as some you might not, such as:
Hasan Ibn Al-Haytham: the first scientist to prove theories about how light travels, hundreds of years before Isaac Newton.
Sultan Razia: a fearsome female ruler.
G. Willow Wilson: the comic book artist who created the first ever Muslim Marvel character.
Ibtihaj Muhammad: the Olympic and World Champion fencer and the first American to compete in the games wearing a hijab.
Noor Inayat Khan: the Indian Princess who became a British spy during WWII.
There are so many more amazing Muslim men and women who have changed our world, from pirate queens to athletes, to warriors and mathematicians. Who will your next hero be?
About the Author
Born in Bangladesh, raised in Newcastle and currently residing in the outskirts of Manchester, Burhana Islam is a storyteller who is passionate about exploring themes of heritage, belonging, identity and faith in both her children's and YA works. She studied English Literature at Newcastle University before deciding to become a secondary school teacher, sharing her love for stories with a new generation of curious, young minds.

Nabi is a Tamil American freelance illustrator based in Orange County, California. He works with character designing, painting, and making theological art. In his spare time, Nabi enjoys reading, learning languages, researching syncretic theology, and writing poetry.

Reya Ahmed is a visual artist from Calcutta. Her illustrations explore themes ranging from feminism to architecture. Her inspirations are rooted in the city of and in her experiences of growing up in a Bengali-Muslim household. She can often be found alone at cafes, sketching strangers from a distance.

Saffa Khan is an Illustrator and publication maker exploring themes such as identity, community and mental health. They deconstruct and translate daily feelings, conversation and intimate thoughts into self-published printed matter using Risography. Their practice also involves skill-sharing and community engagement through DIY culture, aiming to platform and publish works by marginalised voices through their community press, Tender Hands (@tenderhandspress).

Aaliya Jaleel is a freelance illustrator, designer, and visual development artist, currently majoring in Animation at the University of Texas at Dallas. She is also the illustrator of Under My Hijab and Muslim Girls Rise. You can visit her online at www.aaliyamj.com.
Features & details
Product information
| | |
| --- | --- |
| Hardcover | 208 pages |
| ISBN-10 | 0241441803 |
| ISBN-13 | 978-0241441800 |
| Product Dimensions | 25.6 x 2.5 x 18.3 cm |
| Reading level | 9 - 12 years |