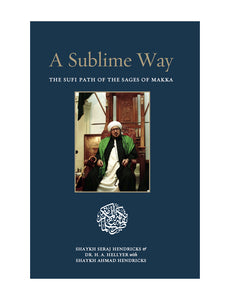 In this work the authors describe the path of the way of the scholars of Makka – Ṭarīqa ʿUlamā Makka – who came from around the globe, and engaged with each other in that holy city.
The authentic and indigenous spirituality of the Holy Cities has survived. This book is an authoritative Sufi guide in English transmitting the teachings of the great sage from the Holy City of Makka, Shaykh al-Sayyid Muhammad b. ʿAlawī al-Mālikī (d. 2004).  This Meccan scholar represents one of the true inheritors of the Ghazālīan legacy in the modern age. The brotherhood follows the spiritual path of "self-purification (tazkiya), inner excellence (iḥsān) and the path (sayr) to God Most High"
Shaykh Seraj Hendricks and Shaykh Ahmad Hendricks were khulafa – spiritual representatives – of the pre-eminent sage, Sayyid Muhammad b. Alawi al-Maliki, who was a prominent master of this way. This volume explains various practical aspects of Sufism, and provides the reader with both some of the litanies and practices of the order, while also introducing how it engaged with a particular community of Muslims in South Africa.